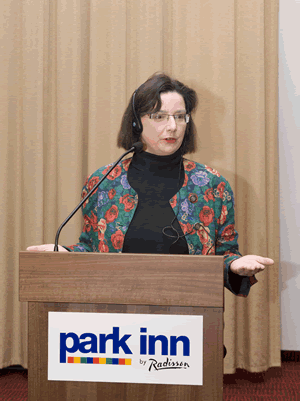 Foundation Princesses de Croÿ et Massimo Lancellotti: founder falsely accused of identity theft to discredit her testimony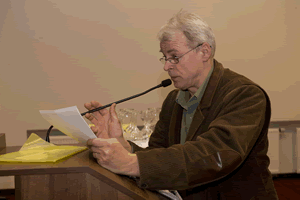 Journalist Juozas Ivanauskas: journalist prostitute themselves, knowingly falsifying information, to promote political or financial interests.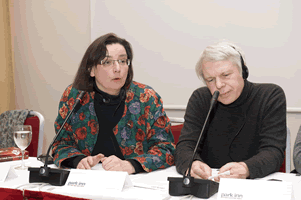 Werkgroep Morkhoven: Information on paedophile networks are 100% censsored in Belgium.Lithuania must take care that no one takes away their freedom of expression, as is already possible in Belgium.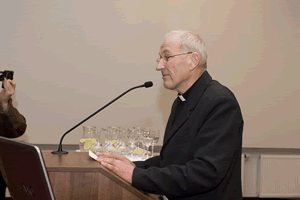 Father Jonas Varkala has made a beautiful presentation of the biblical approach to child protection. He made an analogy between the EU and the Devil, for its inability to enforce the fundamental rights of children.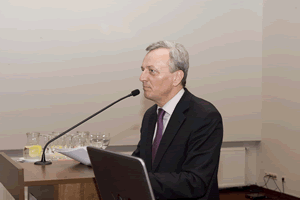 MP Saliaus Stoma: Legal tools in fight with paedophilia in Lithuania and Western democracies.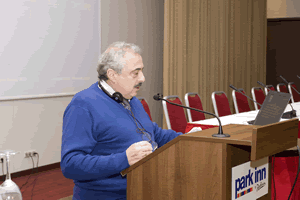 Professor Maurizio Bruni: The medico legal approach to abused children: an up-to-now in Italy.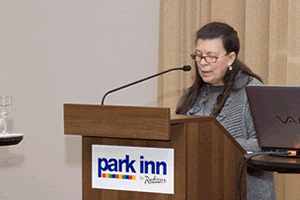 Maria Benigno, President of IAD Bambini Ancora: Role of Voluntary Section in the fight against child sexual abuse: an Italian experience.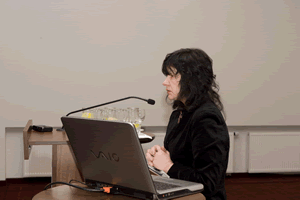 Rita Broka, a Latvian journalist: her ex-husband, a simple pilot who managed to buy his own plane, was sentenced for abusing their daughter, but he remained unpunished.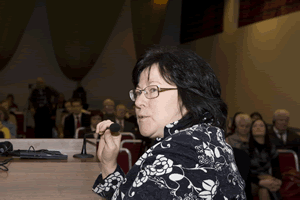 Dr Zaiga Blaua: Posttraumatic stress disorders after childhood's sexual abuse.
The mother and sister of Drasius Kedys
Paedophilia: attempted sabotage of the Kaunas Congress
Jacqueline de Croÿ - 30 janvier 2011
Over 400 people attended the first European conference focused on judicial dysfunctions regarding paedophile networks, this 22 January 2010 in Lithuania. The Drasius Kelias NGO invited specialists in the child pornography industry, scientists, politicians, journalists and members of the clergy, who came from Belgium, Italy, Latvia and all around Lithuania to explain the situation and find solutions. The historical conference was broadcast live on television, from the splendid Park Inn in Kaunas.
Lietuvos Rytas: the Lithuanian newspaper and television network which enjoys un-researched libel.
Just as the brilliant journalist Juozas Ivanauskas painted a scathing portrait of Lithuanian media, who are "prostituting" themselves by knowingly falsifying information, to promote political or financial interests, Lietuvos Rytas distinguished itself by publishing an article entitled "In Kaunas, supporters of Kedys invited a phoney Belgian princess". The libel concerned my family. The House of Croÿ, issued from Mark of Hungary in 1290, refused the throne of England, as forty catholic cousins who agreed it should go to the closest protestant descendent of the Stuarts, in order to avoid religious wars. These journalists were able to follow my comments on the Kedys affair relayed for one year in the Lithuanian press. They had no intention of making an honest report, since they wilfully endorsed a fake scandal the day of the Congress, two hours before the end of the debate.
I had not come to talk about my family, but to open the eyes of the Lithuanian people on the political pitfalls for paedophile networks within the EU, so as to help them avoid some traps. The real problem is a complex interaction between national and EU laws, aiming at presenting a fake democracy. As a consequence in Holland, the Martijn paedophile ring is free to promote child abuse on its website, on the grounds of freedom of expression, provided it does not publish child pornography. But NGOs fighting the sexual exploitation of children have been banned from freedom of expression when they expose the shortcomings of the EU.
This is the case of the Morkhoven NGO which was subjected to a ban on distributing pamphlets in Antwerp in the 90's, and whose founder, Marcel Vervloesem, is currently the object of a speech ban about paedophile networks which is its business! We are banned from the right to answering the calumnies concerning us. Marcel Vervloesem's lawyer had to introduce a formal complaint in court to request the elimination of an identity theft on Facebook and my account was removed on the basis of the Lithuanian fiction.
Lithuanian judges have even laxer standards in allowing libel than EU average.
In Belgium as in Lithuania, cases that expose the EU shortcomings are closed by calumniating the complainants, which national court legalise on the grounds of violation of procedures. However, Belgium law works through the formulation of procedures in contrast to Lithuania law which juggles with rules of evidence.
Belgian courts grants impunity to the local mafia and the media, as long as they invent stories that enable them to enact a "judicial truths" that erase all traces of state responsibility. The complaint of the NGO Morkhoven against the paedocriminal network Zandvoort was held in secret, and then joined to a calumny of the local mafia accusing the main researcher of the NGO of being a rapist. He was convicted despite the inability of judges to dispute nine medical certificates proving that his state of health would not allow him to rape anyone.
In Lithuania, it is the same principle but without the procedures. The Lithuanian mafia have the right to gun down a judge in the street, while their Belgian counterparts are only authorized to provoke fatal accidents.
In Lithuania, it took only two hours to declare Drasius Kedys guilty of murdering two people from whom he requested testimony concerning the sexual exploitations of his daughter and niece, the day before their trial. Drasius Kedys was accused of having killed a "fine" judge that his four years old daughter would have slandered by saying he had "a big penis from which cream came out". He was then accused of having murdered an honest strip-dancer and left the weapon of the crime registered in his name near her body. He was accused before the time necessary to perform the forensic researches to determine whether the same weapon was used in both murders, and whether this weapon had not been stolen from him. He was said to be "on the run" even though he and his family claimed that he had been kidnapped by the real murders.
Most striking in Lithuania, is the number of people involved in sensitive cases, whose deaths are attributed to the over-consumption of alcohol. Drasius Kedys was supposed to have died, drunk, frozen on a warm spring night after falling asleep beside a river. The godfather of his daughter died, drunk, drowning in a 50 centimetre puddle of water, two days before the trial at which he was supposed to answer for sexual abuse. In another embarrassing case, an elegant man was held to have died, drunk, because he lost his balance as he tried to pee in the street from a window on the eighth floor of a building.
Who is more mature? A six years-old child or her twenty-three-years old mother.
Drasius Kedys was deemed to have coached his four year old daughter to act in a one hour sex drama. The concentration limit of a four years old child requires a year of theatre training to achieve playing in a five minute comedy. The child openly accused her mother of prostituting her, but the latter was cleared in the absence of a duty to investigate as requested.
The mother made a curious "confession" after the Congress. She explained that she was a poor innocent girl when she was seduced by the young, handsome and wealthy businessman. She was 17 when a baby girl was born of their union, and 18 years old when she left him ... with the right to a fair alimony. The twenty-three year old young woman seems indifferent to the murder of a man she is supposed to have loved. She has no hesitation in trying to smear his memory. She complains that the Kedys family never accepted her, which is quite understandable. She was raised in the custody of her sister, a night-club stripper and her step-brother is a Mafiosi convicted 14 times. She accuses everyone of lying, to harm her.
We met the Kedys family and on the contrary, seem sincere, open, rational and generous people. It is clear that Drasius Kedys would have been better inspired if he had sent the young girl back to her strip-dancer sister and her Mafiosi step-brother. He would be alive if he had advised her to go to school rather than looking for men in night-clubs. He made the mistake of thinking he could protect her from a milieu, from whom no one leaves without paying a high price. He assumed his responsibilities as a father towards his daughter. The proof of the respectability of his family is that they carry on a fight, particularly dangerous in Lithuania, to protect his child.
A ray of hope: utopia or reality?
Shortly before the congress, two rays of hope appeared almost simultaneously in Belgium and Lithuania concerning the right to a fair trial. The Belgian Court of Cassation, the level above the Court of Appeal, overturned a decision attributed to an act of intimidation, whilst a Lithuanian court decided to grant Drasius Kedys's daughter her right to express her opinion in the decision of her custody case. Her mother has requested the custody, but the child wants to remain with her paternal aunt. The family wishes for the least, that the visitation right of 4 hours per week be held in a therapeutic framework to meet the child's superior interests, as requested by law. After the congress, strangely enough, the mother admitted that it would be difficult cope with her daughter, but it seems she wants to try all the same. Let us hope that the tribunal will explain her that a child is not a toy.
The fight is only at its beginning in Lithuania. We will be by their side to avoid the pitfalls.
The Kaunas Congress showed that the Lithuanian people are privileged by the exceptional number of responsible citizens, who are sparing no efforts to protect their children. They are privileged by having several brilliant journalists who are fighting for the right to information, which has become quasi non-existent in Western Europe. They are also favoured by a prominent politician, Saliaus Stoma, who is seeking a solution other than turning a blind eye on the sex industry involving children. He proposes new laws to align Lithuania to the severity advocated by EU laws. Yet, we also suggest laws to force judges to enforce them. We also need laws to prohibit any public office being given to judges who pretend that they do not to know fundamental human rights law.